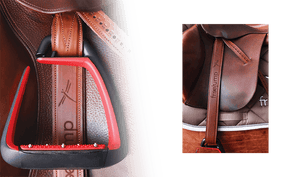 FreeJump Classic Wide Leathers
CLASSIC WIDE LEATHERS
35MM WIDTH FOR A SUPERIOR COMFORT USE
Stirrup leathers have been narrowed over the years to the detriment of the riders comfort. FreeJump was already a trailblazer with the wider PRO GRIP leathers, we innovate again with the new Classic wide stirrup leathers specially developed for the  SOFT'UP CLASSIC stirrups.
TECHNICAL FEATURES
Nylon lined vegetal leather.
15mm spaced holes for a precise adjustment of the stirrup leather.
Leathers designed for the wide eye of the SOFTUP CLASSIC stirrups.
Extra width from top to bottom for more adjustment, stability and comfort for the rider.
Sold by pairs
2 colors : brown and black
3 sizes: S, M, L
Free US shipping over $300
Price Match Any U.S. Store In Stock
100% secure payments